Tour Clothing – Pearl Izumi
our experience on a 2-week bikepacking trip!
Options are endless when it comes to clothing choices for bike touring. Our team decided to wear more traditional road clothing from Pearl Izumi for the duration of the trip. Below are our favorite pieces:
Fergus Tanaka, Ryan Oakes, Corey Duren
Fergus Tanaka
What were your 3 favorite pieces?
PRO Bib Short
The fit of the Pro Bib short was surprisingly great. I'm a standard medium, and the Pro bib fit well without giving me sausage legs. The gripper band wasn't too tacky, yet it stayed put during the duration of a 10hr day in the saddle. Also, the chamois was incredibly comfortable over a long period of time. It never felt too puffy and provided the right amount of support that I needed over the course of the ride.
Shop PRO Bib Short
Expedition Jersey
Expedition jersey is a fun piece, with a nice contrasting pocket on the front for a welcome break from typical jersey color blocking. The weight was closer to light-medium, good for spring and fall weather where the start may be brisk, but warm up to 60 in the day. Paired with a base layer and arm skins/warmers makes this piece more functional across a broader range of temperatures. In addition to the material, the cut fell in a sportier fit between casual and race fit. Loading the pockets up with a vest and snacks didn't sag the jersey or make it feel awkward.
Shop Expedition Jersey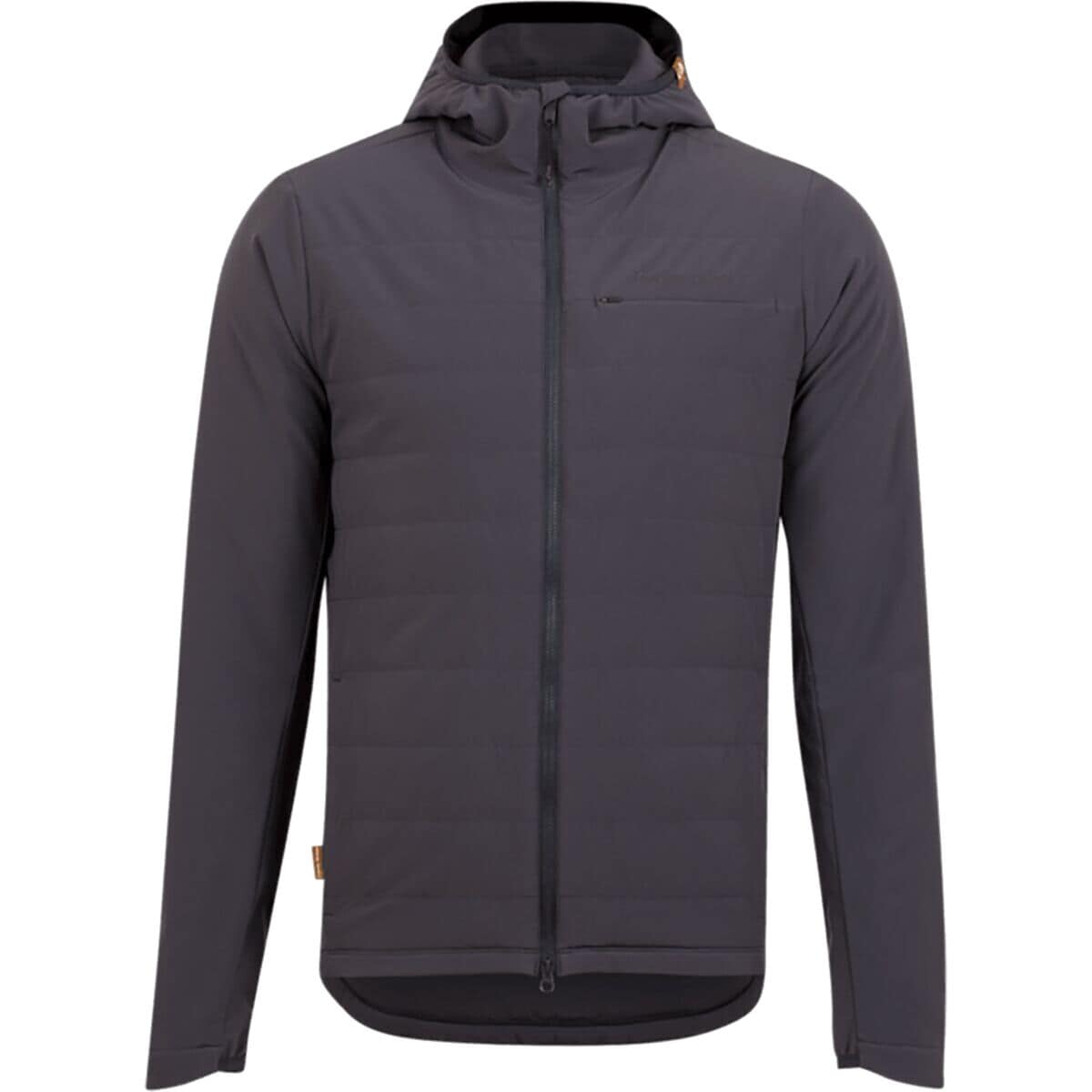 Canyon ECOLoft Jacket
Lastly, the Canyon ECOLoft jacket was a snuggy friend that was comfortable to ride with for chilly mornings through low 50-degree days. It never felt too hot or too light for the spring temps we rode through. Off the bike it looks the part of any outdoor enthusiast and can be paired with casual attire as needed.
Shop Pearl Izumi Jackets
Ryan Oakes
What were your 3 favorite pieces?
Merino Sock
Yes, Merino Socks were my favorite. It's so funny how such a simple, staple item can get overlooked. Firstly, on a big tour, you can only bring so many socks with you. Merino wool is naturally antimicrobial so you can wear them again and again without them being overly stinky. Secondly, lots of people tend to want to pigeonhole merino for winter riding only. I've found it to regulate body temps well, save for the hottest of days. Sure, it's not my first choice when its 100 degrees out, but I wouldn't think twice about rocking them on a 75-degree day. Lastly, likely because people think they are for winter, often merino socks come in heavy winter weight. Pearl Izumi does have a Thermal version of their merino sock, but their standard merino sock is a wonderful weight that fits and fells like any other synthetic cycling sock out there.
Shop Merino Sock
AmFIB Toe Cover
My second pick is not the most exciting, but I picked the AmFIB toe warmers for good reason – They weigh very little and take up very little space in your bags. It's an easy way to keep some morning chill off the toes without committing to a full shoe cover. If the day warms up and you need to remove them, they come off with ease and stow quickly. I also found the AmFIB Toe Cover fit my gravel shoes well.
Shop AmFIB Toe Cover
Sun Sleeves
My third pick is Sun Sleeves. I wore these almost the entire duration of the trip. I'm fair skinned and sun burn easily. Our altitude was rarely under 4000ft. At high elevation, the sun is intense. Sunscreen sweats off, needs reapplied and leaves your hands greasy which is not great on a bikepacking trip with limited access to a sink. These are thin enough to wear on hot days and can even have a cooling effect if you sweat in them or soak them in water. On cold days, they aren't as warm as arm warmers, but do the trick of keeping wind off the extremities. Their snug fit let me wear them under a jacket as an extra layer on my arms without too much bulk. A super versatile piece!
Shop Sun Sleeves
Corey Duren
What were your 3 favorite pieces?
On my recent bike tour from Wyoming to California I had the opportunity to use some fantastic Pearl Izumi products. On our tour, myself and friends rode over 1100 miles in 13 days, pushing our bodies and equipment to the limit. Below is a list of my 3 favorite Pearl Izumi pieces that I used during this ride.
Expedition Bib Short
The most used piece of gear that I had the opportunity to try was the men's Expedition Bibs. These bibs felt good even after 10+ hours in the saddle. I wore them almost every day. They vented well, had a very comfortable chamois and stood the test of long hours and multiple days on the road.
Shop Expedition Bib Short
Zephrr Barrier Vest
The High Viz Zephrr Barrier Vest was with me every day and I rarely took it off. We spent over 81 hours on the road and safety was one of our top concerns. This vest has a two-way zip and keeps the chill off in the mornings and provided great visibility throughout the day.
Shop Zephrr Barrier Vest
PRO Insulated Jacket
The PRO insulated jacket was an unexpected hero. Through the states of Wyoming and Colorado, the weather was very harsh and cold. This jacket is well insulated and was a staple every morning of the first week of the trip. I'm not sure what I would have done without it. Not only was it very warm and cozy even on the move, but the visibility of the neon 'Screaming Red' color improved our safety.
Shop PRO Insulated Jacket